WELCOME TO THE LATEST TECHNOLOGY IN

NON-SURGICAL FACE LIFTING
Tighten, Lift, Rejuvenate with Fresh Faced Fibroblast!
WHAT IS FIBROBLAST SKIN FIRMING THERAPY?
Breakthrough European Technology
Used in Europe for years successfully, this advanced non-invasive procedure is relatively new in the beauty industry in North America. Using plasma (4th state) energy directed through a precise instrument (plasma pen), results are fast with minimal downtime and comparable to surgery in skin lifting and tightening.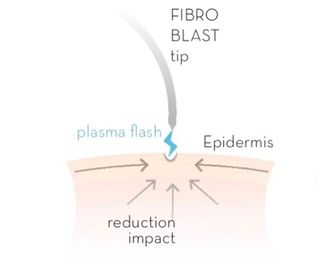 How Does It Work?
The precise instrument known as a plasma pen works by utilizing the voltage in the air between its tip and the skin, to form a plasma charge. An electrical arc is created and instantly shrinks the targeted skin. The tissue retraction and tightening is comparable to surgery but with no cutting, very low risk and much more affordable.
Some other benefits: No stitches required, very little downtime, no injectable anesthesia required, minimal side effects, instant results and fast enough to do over a lunch break! .
There is a numbing cream used topically beforehand if client desires. Immediately after treatment there are little brown spots called carbon crusts which fade within a week and the skin continues to produce collagen (fibroblast cells) for several weeks after tightening. After 6 weeks, a second treatment may be required to get desire results, although one treatment is often dramatic enough!
What Does It Treat?
This technique can dramatically firm, rejuvenate and tighten loose or sagging skin.
Excellent for:
Wrinkles
Fine Lines
Saggy Skin
Loose Skin
TREATMENT PRICES

SINGLE AREAS

Upper Eyelids
$450
Under Eyes
$350
Crow's Feet
$250
Lip Area (smoker's lines)
$350
Jawline (jowls)
$800
Nasolabial area (smile lines)
$300
Forehead
$300+
*Depending on the size of the area, determined during consultation.
Stretch Marks
$400 +
*Depending on the size of area - $400-$800 - This is usually for a belly area. (one hand size is $400, 2 hand sizes is $800).
Neck Lift
$1000

COMBINED AREAS

Eyes Area Combo
$800
This includes the 3 main eye areas: upper eyelids, under eye area and crow's feet
Entire Face Combo
$1800
Over $300 savings
*2 hours plus
This includes entire eye area, jawline, lip area, nose folds, mid face lift and forehead area.
Face and Neck Combination
$2500
Over $1000 savings and includes the entire face and neck
May be done in 2 visits if desired.
3-4 hours of treatment
Neck and Jawline Lift
$1500
Lift and tighten saggy skin in the neck and jawline.
Can be done in one visit (2 hours).
FINAL RESULTS ARE VISIBLE 6 WEEKS AFTER TREATMENT. FOLLOW UP TREATMENTS MAY BE PERFORMED AT 6-8 WEEKS DEPENDING ON YOUR SKIN'S HEALING.